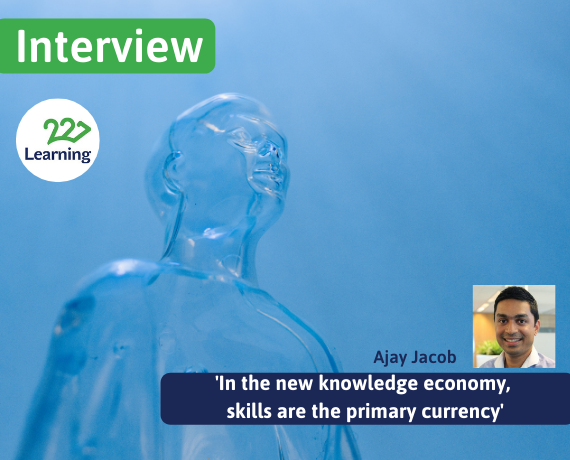 Unleashing workforce potential
Interview series episode 2: L&D AS ROLE-MODELS
In today's rapidly changing environments with constantly evolving business models, our challenge is to ensure that the right people with the right skills are in the right place at the right time. Upskilling and reskilling is by far the top priority for L&D, see also reports from the World Economic Forum and Deloitte, among others. And with good reason, because with the second war for talent in full swing, this has become a necessity for companies. Flexibility and mobility are receiving more and more attention, the challenge is to give substance to this in different contexts. It is high time to really look at the labor market differently. What are the jobs of the future, and what skills do you need for them? In this interview series we will discuss this further with Ajay Jacob.
 
My name is Ajay Jacob and I'm currently the Global Learning Experience Manager at Arcadis based in the Netherlands. Arcadis is a leading design and consultancy organization and we have 27,000 of our colleagues spread over 70 countries around the world. I began my career in L&D in 2003 in my home country of India and worked in the UK for about 10 years before moving here in 2016.
Ajay: "We need to start role-modelling the changes we want to see. For example, if we need to help organizations develop agility, it's obvious we need to work more agile as an L&D function".

What have been the biggest changes in your organization / field and your position in the past 2 years?
"It is almost impossible to talk about work and L&D these days without mentioning COVID, and there's no doubt it has been a game-changer. Before COVID, L&D was already slowly moving away from being seen as a 'cost center' or even an enabling function towards being more of a strategic partner to the business. But the new reality has brought a lot of focus (and expectation!) because we've already seen that organizations that have emerged stronger during this period are those that embraced digital, prioritized learning agility, and built cultures based on trust.
 
"In many cases we have a bigger seat at the table with a more strategic role to help organizations navigate uncertainty, there's a welcome focus on the links between wellbeing and performance, and from a delivery standpoint, there's also now a clear shift from traditional classroom training to digital learning experiences.
"Aside from all this, we know that work and learning need to come much closer in order for companies to maintain their competitive advantage, attract talent, drive innovation, and navigate an increasingly complex technological landscape. So I think the big change is that we are now at the heart of enterprise transformation".

What major changes do you foresee in the Learning & Development market? What will the position of L&D look like in the future?
"It's difficult to make any kind of predictions where we're in the middle of an unprecedented situation, but the rapid rate of change has made learning in almost every type of organization a must-have rather than a nice-to-have. If you also think about the other main changes we're seeing -whether it's digital transformation, diversity and inclusion, or mental health and well-being, I think L&D professionals have a part to play in all these in some way or another.
 
"The good news is that we will have more opportunities to drive impact, but it also means we have to be more deliberate and focused when it comes to how we operate. We will need to embrace technology, be more agile, and develop a much deeper sense of the business challenges in order to be truly effective. As the saying goes-  with great power comes great responsibility!"

What roles do you take as L&D professional in this ?
"In the new knowledge economy, skills are the primary currency. Even before COVID, the half-life of a skill was estimated to be five years- which means that half of what you learnt five years ago is already obsolete. Individuals need to be able to upskill and reskill faster than ever, and organizations will need agile learners who can APPLY their knowledge to help them execute their business strategies faster. 
"Which means we need to start role-modelling the changes we want to see. For example, if we need to help organizations develop agility, it's obvious we need to work more agile as an L&D function. We will also see more use of technology for virtual and blended learning, as well as increasing use of data, so we need to get comfortable with these which wasn't really part of the 'traditional' world of L&D".

Which top 3 skills do you see as essential for organizations to be 'Fit for the Future' and why?
"The technical skills required will obviously keep changing at a rapid pace, but to me some of the foundational skills of leadership, communication [even more important now in a virtual-first context] and resilience will always be crucial. Underpinning all these is a culture of learning which in turn helps people be better prepared for the next change and disruption".

What is your biggest L&D challenge for the next 2 years? And for yourself?
"I don't know if there's a single 'biggest' challenge but there will be lots of 'smaller' ones [and I prefer to call them opportunities anyway]. One is that as we have seen we will likely get pulled into various change initiatives, and for smaller teams it then becomes difficult to prioritize and focus. 
"As we move closer to the business there will also be a need to engage more deeply with various stakeholders, co-create content, and work iteratively. This can sometimes mean giving up a bit of control which many in L&D are not used to. Scaling will also be massive priority, and with tighter budgets teams will often need to leverage existing technology to try and provide a consistent learning experience for people wherever they are. So there will be lots of opportunities to work differently and have real impact but in most cases it will first need a mindset change to make it happen".

And what skills do L&D professionals need to successfully take on their role in this?
"Many learning professionals will be expected to wear multiple hats [even at larger organizations] and ideally you may want to position yourself as a performance consultant who is equally comfortable with both digital and in-person delivery methods. If you are just transitioning into L&D, it's a good idea to get a solid understanding of digital learning, adult learning theories, etc. 
"Having great instructional design skills is crucial, but the more skills you can add to the mix, the better. A few that could be useful are storytelling, virtual facilitation, and basics of marketing. A little knowledge of data analysis and knowing your way around tools like PowerBI also helps immensely. There's plenty of good + free resources out there to start learning".

What is needed to actually (accelerated) develop those skills?
"I think as I mentioned earlier, the first step is maybe more of a mindset. We need to embrace the change, develop a growth mindset and look to drive upskilling ourselves before we can set out to upskill others. This is an exciting time to be in L&D, so I would say jump right in and enjoy the ride!"

What do you do to develop your own skills?
"For me, one of the things I'm most excited about is how much the L&D community has taken off on platforms like LinkedIn. Since there are many people currently transitioning from other roles into L&D they are bringing a lot of energy, trying new tools, sharing tips or samples of work, asking for feedback, and helping each other out. So one of the main ways I've been learning is by following what's happening there, joining events, webinars, workshops, etc. I'm currently also doing a 'MOOC' on Learning Experience Design which is quite interesting and I also get recommendations (from human beings as well as algorithms) for books and podcasts which I try and set aside some time for every week. #LearningNeverStops!"